Webinar on Genetic Counseling for GI Cancers, March 26, 10-11 a.m. (Central Time)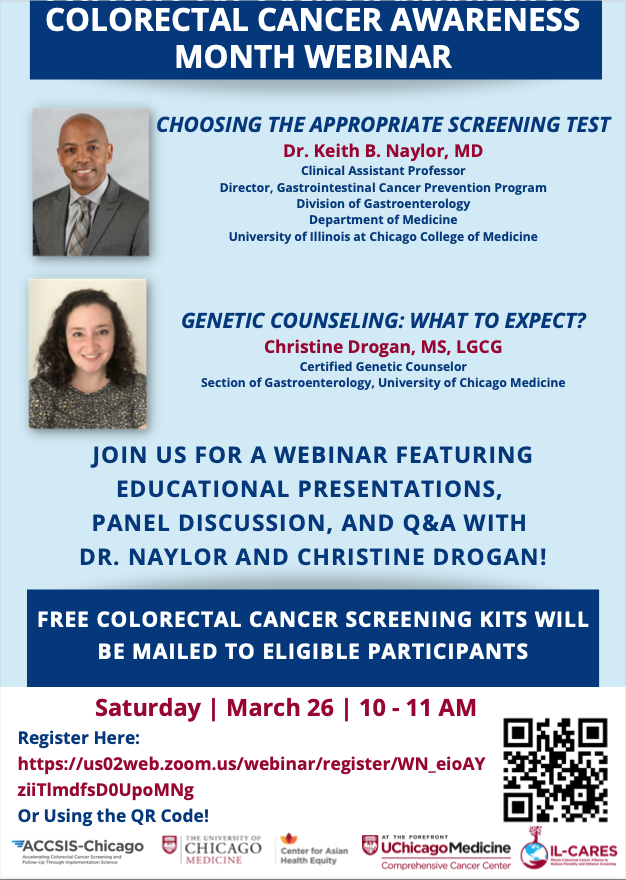 Keith Naylor, M.D.
Dr. Naylor is practicing Gastroenterologist with a clinical focus in the diagnosis and treatment of hereditary and familial gastrointestinal cancers. Dr. Naylor leads the Division of Gastroenterology's Gastrointestinal Cancer Prevention Program.  Dr. Naylor's research examines variation in the utilization of endoscopic and non-endoscopic forms of colorectal cancer screening among urban communities and within racial and ethnic minority groups.
Christine Drogan, MS,LGCG
Christine Drogan, MS, LGCG, is a board-certified Genetic Counselor in the Section of Gastroenterology at the University of Chicago and is licensed to practice in the state of Illinois.  She graduated from the genetic counseling master's program at the University of Pittsburgh in 2020, during which she completed a thesis project evaluating the use of educational video for pancreatic patients undergoing genetic testing.  Since graduation, Christine has worked with Dr. Sonia Kupfer to evaluate and manage patients with hereditary gastrointestinal cancer predisposition syndromes.  Her professional and research interests include genetic counseling of families at high risk of pancreatic cancer, and expanding access of genetic services to underserved populations on the South Side of Chicago.  Christine is a member of the National Society of Genetic Counselors and the International Collaboration of the Americas on Inherited Gastrointestinal Cancers (CGA-IGC), of which she serves on the communications and membership committee.
You can register for the webinar here:
https://us02web.zoom.us/webinar/register/WN_eioAYziiTlmdfsD0UpoMNg